People either love French manicures or hate them. Those who are against find them too boring and traditional and prefer brightly-colored nail polish and cool nail art. Then there are those who are devoted to their classic French manicures and obsess over the best color nude-pink for their base. What both groups may forget is that there is more than one way to do a French manicure. Why does it always have to be the expected nude base and white tips? There are endless color combinations you can try, as well as a multitude of shapes and designs. Even the most nail art-addicted girls will be tempted to try some of these new ideas.
Check out 20 fun ways to update the traditional French manicure:
1. Zigzag French Manicure
If superheroes had a signature manicure, I am positive that this would be it. Sparkly polish is mandatory.
2. Two-Tone Angled French Manicure
In addition to playing around with colors, don't be afraid to experiment with different shapes.
3. Light Blue Tips French Manicure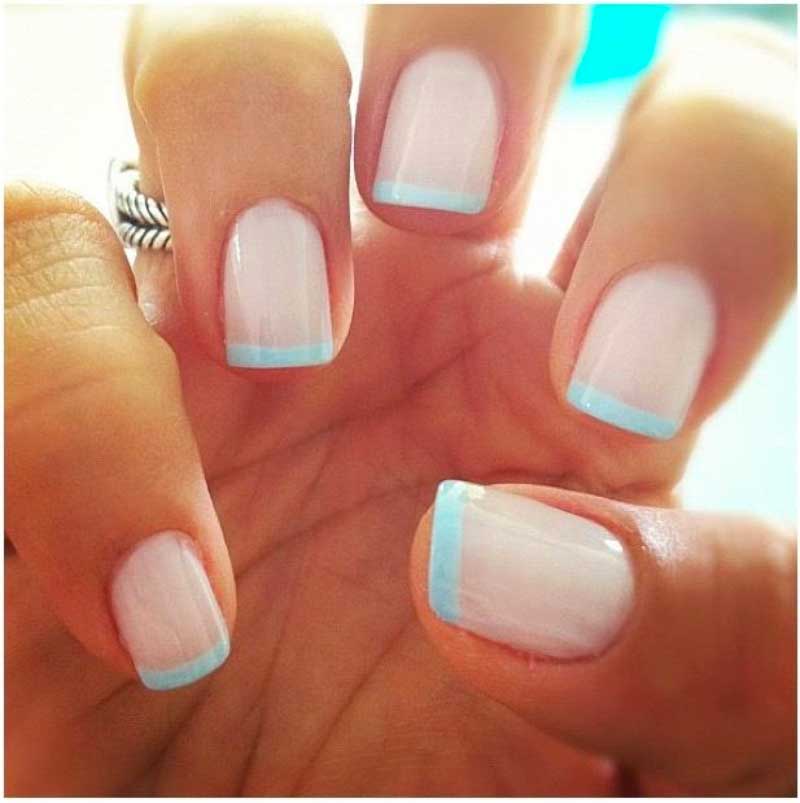 If you don't want to stray too far away from white, try pastel blue tips. See, you can break out of your comfort zone.
4. Purple Moons And Tips French Manicure
I'm tempted to try an Orange Is The New Black joke, but as that didn't go too well for other people, ahem, Zara, I will say that this is too cool to only wear on Halloween. Love the eggplant-colored polish.
5. Rainbow Tips French Manicure
Pastel rainbow shades are a fresh alternative to traditional brights. The taupe base is also an interesting choice.
6. Polka Dot French Manicure
How cute is this? The full black-and-white polka dot finger gives it a bit of edge.
7. Metallic Silver Tips French Manicure
This is how I picture everyone will be wearing their nails in 2039. It has a robot vibe that looks awesome. The hardest part is finding the right silver nail polish.
8. Neon Green Tips French Manicure
Neon tips plus a textured black base could be too much, but it surprisingly works. This is a great idea if you want to try fluorescent nail polish but don't want all of your nails to be glow-in-the-dark bright.
9. Double Zigzag Manicure
Who would have thought the same designs that you paint on your Easter eggs would work on your nails as well?
10. Leopard French Manicure
I've tried leopard print nail art, but I never would have thought to try patterned tips. The asymmetric style is a fun touch–and allows you to show off more of the fun print.
11. Glitter Falling French Manicure
If you struggle to get a crisp edge when doing nail art, even when you're using tape as a guide, this falling glitter manicure is perfect because you don't have to worry about being precise.
12. Double Rainbow Stripe French Manicure
Black tips are unique, but the thin rainbow stripe accent makes them much more fun. Think of all of the possibilities.
13. Black And White French Manicure
If you want to go with something traditional with a bit of edge, add an asymmetric slash of black and a glitter top coat.
14. Dripping French Manicure
Why is it that every manicure theme always has at least one blood-related manicure? If you want this one to look less gory, choose a different color and save the deep red for Halloween. And we even have a tutorial for this trend so you can learn to do it in just a few easy steps!
15. Red Polka Dot French Manicure
I want to name this the Minnie Mouse manicure. Instead of just adding dots to the tips, put them on your entire nail.
16. Studded Tips for French Manicure
Who says that you have to use polish on your tips? It will take some time to apply these nail jewels, but the results look freaking amazing.
17. Mixing Finishes French Manicure
This is so chic. You can have fun with colors and shapes, but you definitely should try mixing matte and shiny finishes, especially with monochromatic looks.
18. Diamond French Manicure
If you're a nail art expert, I insist you give this a try. I reckon it would also look neat with a wavy edge instead of the zigzag one.
19. Multicolored Base French Manicure
Instead of switching up the color of your tips, why not play around with the color of your base? And don't think you have to only use one color.
20. Multicolored Printed Tips French Manicure
This mani works on short or long nails. If you're tired after perfecting your rainbow print, it's okay to skip the line of glitter.
Image credits: Pinterest.