Elevate your uniqueness with an exceptional thigh tattoo. Consider side thigh designs for a distinct touch. There is nothing better than getting a tattoo that makes you feel different.
Wearing an object that resonates deeply with your personal significance. The decision to get a tattoo is big, as the mark remains on your skin for a long time. Some people get many tattoos, while others never even consider getting one. Tattoos, particularly in the workplace, are stigmatized largely because of this. It's never too late to escape!
Your thigh would be the best place to get a tattoo that wouldn't be noticeable. If you wear long pants or jeans, you can easily cover up these tattoos and show them off at the beach in your best swimwear.
Seeing the vast selection might just compel you to get a thigh tattoo. This post lists some of the most awesome thigh tattoo ideas to aid you in choosing one. This will also help you determine what area of your thigh to tattoo.
The Meaning Behind Thigh Tattoos
There are a lot of interesting meanings associated with thigh tattoos since they symbolize individuality and showcase a mysterious personality. Due to your thigh tattoo, which is a secret or hidden one, you may show it whenever it's convenient. As well as representing your creative and fashionable side, upper leg tattoos look sassy and are available in a wide range of stunning designs.
These tattoos still draw attention to our main features, which we find mysterious and fashionable, even though they're quite common now. There are many different types of leg tattoos, and each type has a different symbolic meaning. However, there are many meanings attached to thigh tattoos.
Ideas For Men
Upper leg tattoos for men are generally more rigid, aggressive, and masculine than women prefer. The popularity of leg tattoos is growing among men around the world. Everyone from celebrities to sports stars is getting inked.
The best part about a leg tattoo is that it is recognizable yet easily hidden underneath clothing. Leg tattoos can be huge, intricate, or simple and minimalist. A complete leg tattoo covers the entire leg from your ankle up to your calf, knee, and thigh.
It is the perfect option for men with a rebellious and unconventional style. As a result, a tattoo this size could require multiple sessions – but the final result will certainly be worth it.
Men's Upper-Leg Tattoo Design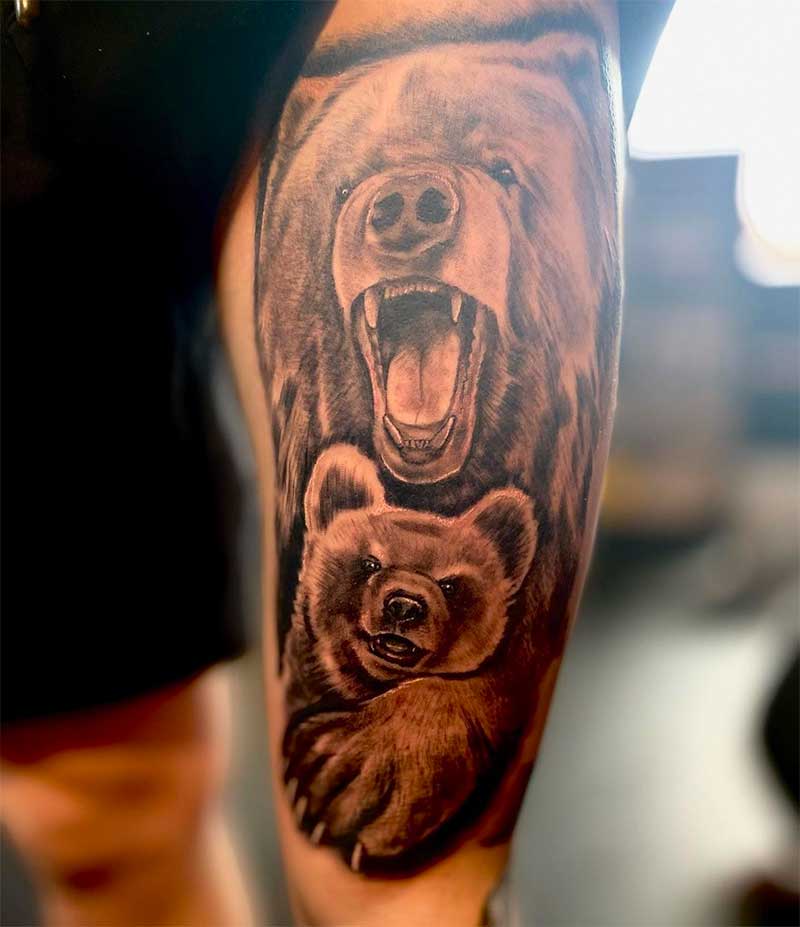 When it comes to men's upper leg tattoos, there are various designs and ideas to consider. Here are some popular thigh tattoo models for men:
Deer Thigh Tattoo: A tattoo of a deer on the thigh can symbolize grace, strength, and connection with nature.
Life of Tree Thigh Tattoo: This design features a tree with intricate roots and branches, representing growth, stability, and interconnectedness.
Bird Tattoo on Thigh: Birds are often associated with freedom, spirituality, and the ability to soar above challenges.
Dinosaur Tattoo on Thigh: A dinosaur tattoo on the thigh can be a bold and unique choice for those who love prehistoric creatures.
Led Zeppelin Tattoo: Fans of the iconic rock band Led Zeppelin may opt for a tattoo inspired by their music or imagery.
These are just a few examples, and there are countless other thigh tattoo ideas for men. Choosing a design that resonates with your personal style, interests, and symbolism is important. Remember to consult with a professional tattoo artist to ensure the design is executed properly and suits your preferences.
Thigh Tattoo Ideas for Women
In recent years, women have been getting thighs tattoos more often due to their ability to flatter feminine curves. Depending on the tattoo, thighs can be subtly seductive or bold and beautiful. The upper legs are not only convenient for large tattoo designs but can also be covered by clothing if needed. Take a look at these beautiful thigh tattoo ideas if you want some inspiration.
There are several advantages to tattooing the leg, including the amount of room that the area allows and the innate movement of the leg, making it an ideal place to place a design.
There are several advantages to tattooing the leg. Despite being large, the thigh allows a lot of movement.
However, the calf is significantly more rigid, although it is much narrower. As for pain level, thighs are less painful than shins, which are among the most painful body parts to get inked.
Side Thigh Tattoo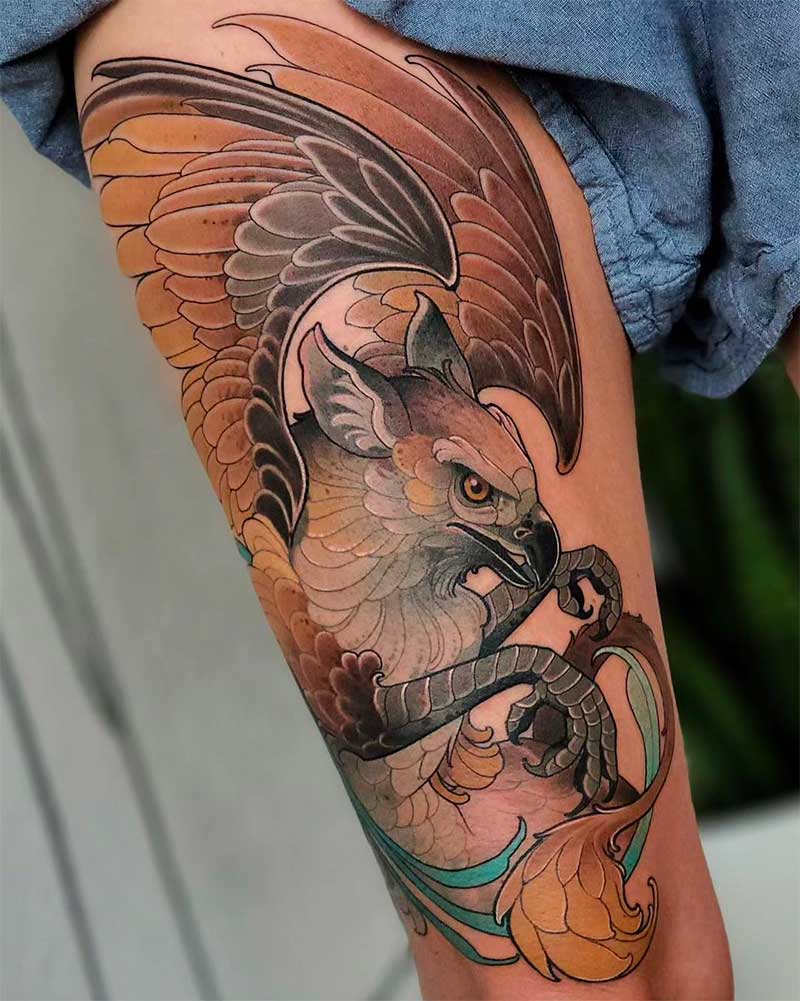 If you want to appear sexier with a tiny tattoo, small side tattoos are the perfect match for women.
You can show off your leg tattoos whenever you like and hide them when needed. The upper leg area is large enough to consider bigger tattoo ideas. Make your bouquet tattoo feel light and delicate by pairing it with thin, wispy lines on the side. You can also use shading to add depth.
Small Thigh Tattoo Ideas for Women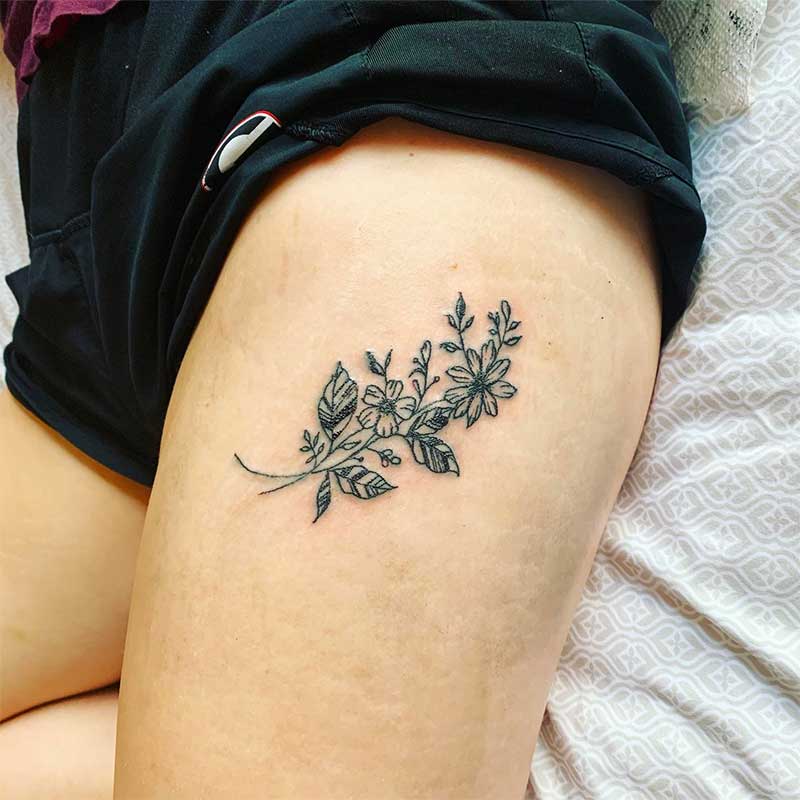 Thigh tattoos are a popular choice for women, and there are many small and subtle designs to choose from. Here are some small thigh tattoo ideas for women:
Red Ink Sensual Small Thigh Tattoo.
Gradation Sensual Small Thigh Tattoo.
Heart Wings Sensual Small Thigh Tattoo.
Birds in Flight.
Gummy Bear.
Words to Live By.
Mountain Range.
Bouquet of Flowers.
Lily of the Valley.
Dream Catcher.
Deer & Lotus Tattoo.
Mandala Lion.
Small floral design with shading.
Linear tattoo.
Name tattoo.
Star sign.
Special symbols with personal meaning.
When choosing a thigh tattoo, it's important to consider the placement and how it will flatter your body's natural shape when viewed in profile. The thigh is a versatile placement for body art, and designs can be placed on the side, upper thigh, or hip and thigh area.
Back of Thigh Tattoo
For those looking to draw attention to their lower half, a thigh tattoo is a sexy option. If you like to wear shorts or a mini skirt, a peachy rear perfectly complements a thigh tattoo. Choose a soft and feminine design – such as a string of flowers – for an elegant look that compliments the curve of your thigh. Be aware that cellulite can affect your thigh tattoo's appearance.
Tattoos on the upper leg, hip, or front of the thigh would be more suitable for women with a lot of cellulite.
Front of Thigh Tattoo
In the past year, women have become increasingly interested in getting tattoos on their front thighs. Besides being attractive and sexy, it also offers more room for design. An eye-catching floral pattern on your thigh can also enhance the appearance of slimmer legs. Consider a design that reaches up to your hips to accentuate your curves even more. When bikini season begins, all eyes will be on you.
Side Thigh Tattoo
Many women choose to tattoo their thighs with large, bold designs, but they can also opt for a more minimalist design. If you're viewed in profile, ensure that the final product flatters your body's natural form. You can choose a linear tattoo that draws attention to your legs' length to make your legs appear longer.
Upper Leg
In addition to larger thigh tattoos, more feminine women choose small ones on their upper thighs. Due to its intimacy, it creates a subtly sensual effect – it is usually not visible to others. Luckily, you won't see it unless someone is very close to you. Women often choose tattoo designs with a special meaning, such as a name tattoo, a star sign, or a personal symbol.
Hip and Thigh Tattoo
Tattoos on the hips and thighs are a great choice for women who want bold and sexy tattoos. Hip and thigh tattoos are generally larger, more detailed, and more prominent. The best design for you is one with curved lines, like a snake, a dragon, or a swimming fish. A vertical tattoo also draws the eye down, unlike horizontal tattoos, which can make you look wider. Thus, it appears slimmer.
Thigh Tattoo Placement
A tattoo's placement on your thigh is one of the most important decisions you must make. The least painful way to get a thigh tattoo is to have it on the side or the front of your thigh. If you choose to go with a garter or full tattoo design, an inner thigh tattoo can add even more to the design. A tattoo that cascades down your leg and/or along your ribs can also add a sense of mystery.
A leg tattoo doesn't have to cover much surface area, despite the large size of the leg. Consider going for something simpler, like a series of dots, to give your leg a slight pop of color.
Black and White Skull
Lace Tattoo Design
Watercolor Butterfly Tattoo
Elephant
Dream Catcher Thigh Tattoo
Upper Lotus Tattoo
Flower
Peacock
Jellyfish Thigh Tattoo
Sun and Moon Thigh Tattoo
Lion Thigh Tattoo
Mandala Tattoos
Detailed Tattoo Mandala
Mandala Garter
Mandala Heart
Henna Mandala Tattoo Design
Sexy Mandala
Preparing For Your Thigh Tattoo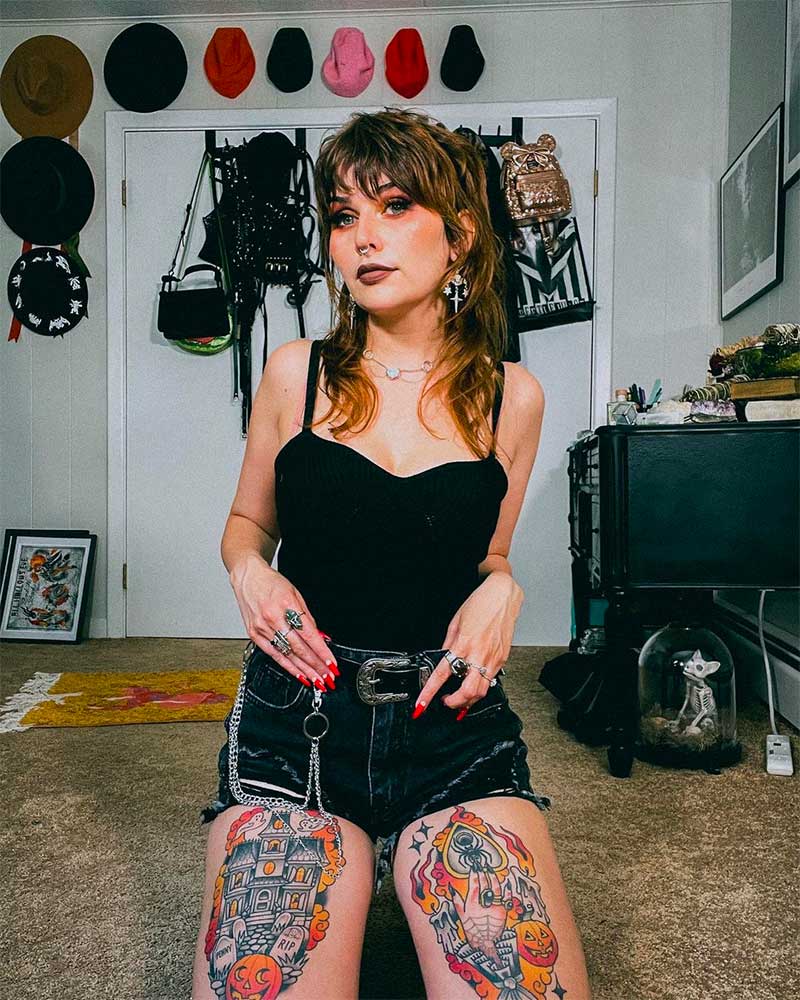 Wear loose pants, skirts, or dresses after your tattoo session so you do not rub on the skin. Wear clothing that doesn't irritate or rub against your new artwork for the first few weeks. It will be more difficult to protect and not rub an inner thigh tattoo during the healing process, which can result in difficulty walking during the early stages.
Simple
Cute Flower
Gorgeous Thigh Tattoo
Small Moon
Simple Small Side Thigh Tattoo
GoldFish Thigh Tattoo
Feather Garter
Watercolor Flower Thigh Tattoo
Beautiful Roses
Lion and Rose Tattoo – Thigh Tattoo
Simple Rose Tattoo for Thigh
Sexy Rose Thigh Tattoo
Wolf and Red Rose
Blue Rose Thigh Tattoo
Butterfly and Rose
Cute Outline Rose
Detailed Maple Leaf Rose Thigh Tattoo
Snake Tattoo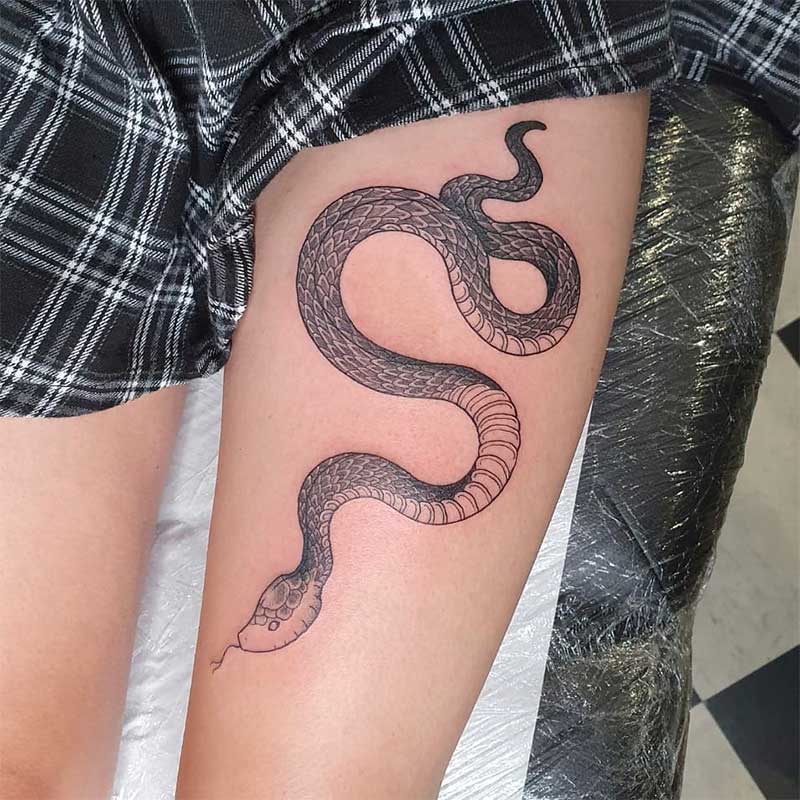 Women who tattoo their thighs with snakes have high popularity. Snakes' bodies have curved lines, making their tattoos sexier. Their associations with womanhood, transformation, mystery, and intelligent traits enhance their appeal. As well as snakes representing temptation, they also figure in the Bible's story of Eve.
Mandala Tattoo
Mandalas symbolize divine harmony and have been around for thousands of years—many yoga practitioners tattoo mandalas. Circular elements adorn the design, making it an ideal choice for curved areas like the hip and thigh. Alternatively, it can be paired with the lotus flower and the traditional Indian-style lines to create a subtle garter effect.
Henna Tattoo
For thigh tattoos on your thigh, especially larger pieces, it's wise to have the design inked in henna first. Rather than being tattooed with a needle, henna designs are drawn on the skin rather than tattooed with ink. Since henna tattoos do not cause pain, and their temporary nature fades over time, henna tattoos are painless. For holidays and showing off your new Henna tattoo in your bikini, henna tattoos are a great choice.
Bow Tattoo on Thigh
There are many trendy tattoos on the thighs that feature matching bows. Hair and clothing were traditionally adorned with bows and ribbons. These tattoos are therefore associated with beauty and femininity. It also mimics the look of garters and stockings, which often had ribbons and ties at this point. Therefore, they are sexy tattoo options.
Female thigh tattoo ideas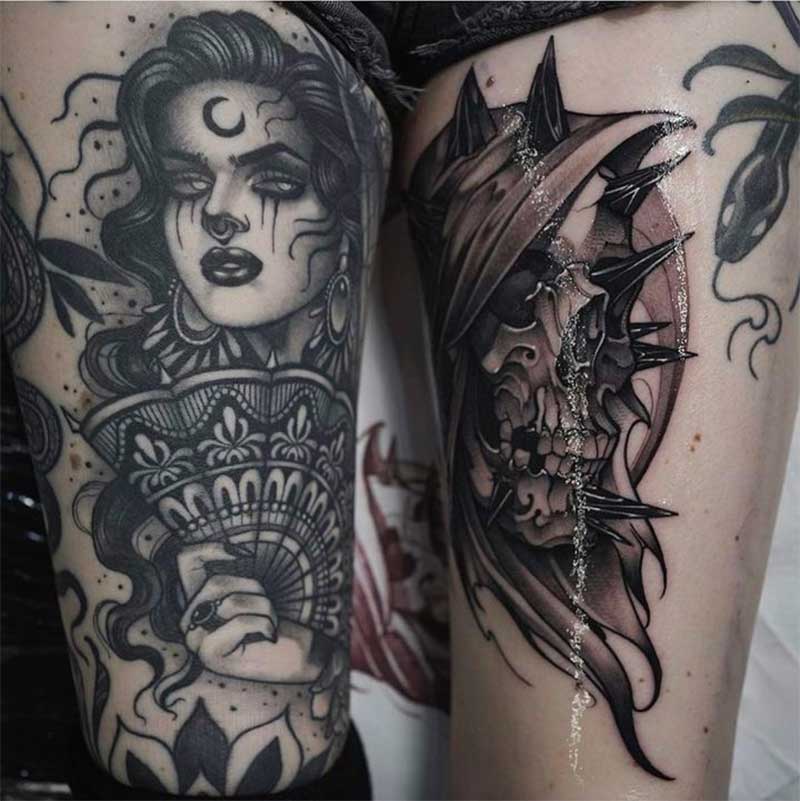 Inner Leg Tattoo
There is nothing sexier than a tattoo on the inner thigh. This is because it's a private area of your body, only meant to be seen by certain people. Getting a quote, symbol, or lover's nickname tattooed on the inner thigh is a popular choice among many women since the tattoo becomes a private, personal expression.
Sexy
It doesn't have to be a raunchy or explicit tattoo to look sensual when it's on your thigh. However, sexiness varies from person to person. Traditional pin-up girls or garter tattoos are perfect for those who like sexy classic tattoos. Other people think a tattoo's sexy simply by adding a word. It would help if you determined what appeals to you on a personal level.
Women commonly get snake tattoos on the upper leg. As snakes have curved lines, the tattoo has a sexy appearance.
Rose Thigh Tattoo
The rose is one of the most classic designs of floral tattoos. With their soft petals, they look beautiful no matter what size and in any setting. They are also dramatic and meaningful tattoos associated with love and beauty. In addition to large, photorealistic inkings on your thighs, you could opt for a small, stylized rose on your lower leg. There is no limit to how you can incorporate it into your style.
Dream Catcher
Some Native American cultures view the dream catcher as a meaningful symbol. The dream catcher is a net-and-hoop woven basket designed to protect children from bad spirits and nightmares. In today's world, dreamcatchers symbolize protection and safety. Additionally, it is a way to honor Native American heritage. Dream catchers work great on the upper leg because the design can be displayed in all its beauty.
The Lion
Lion tattoos symbolize strength, confidence, dominance, and an adventurous and brave character. The tattoos of people who love to be in the spotlight and believe in themselves are popular. Try getting inked with a lion next time if that sounds like you. There are plenty of options for a lion tattoo on your thighs, such as a lion's head, a lion and flower, or a photorealistic lion.
Small Tattoo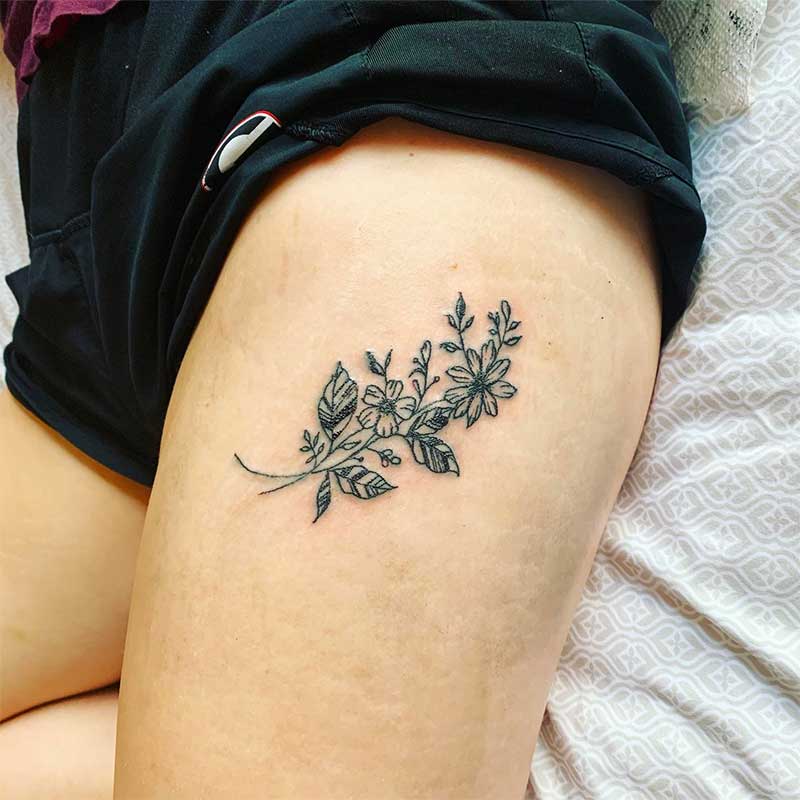 The trend this year is to get delicate, feminine tattoos. Don't display your body art daily; opt for a simple tattoo on your thigh if you prefer a simple design. Popular choices include shapes, words, and Roman numerals. Color your small thigh tattoo instead of black ink to give it a quirky touch.
Cute Tattoo
In addition to being cute, thigh tattoos are also considered sexy. Cute tattoos have a playful feeling while still remaining feminine. A cartoon-style tattoo adds to the cuteness of these tattoos, as they are usually small. Food is a popular theme for these tattoos lately. Ice cream cones, milkshakes, and fruit are currently trending.
Thigh tattoos are mostly preferred by women. Men can choose to prefer their tattoos in more visible places, as they don't always show upper leg tattoos because they wear long pants or Capri.
Dragon
The dragon symbolizes protection, power, and wisdom.
Like snake tattoos, a dragon tattoo – particularly in Chinese or Japanese style – looks great on your thigh because of its long, curved body. In Eastern cultures, dragons are also associated with feminine energy, making them a sexy tattoo choice for women. Those of you born in the Year of the Dragon in Chinese astrology or who enjoy the powerful symbolism of Dragons should think about having a dragon tattoo.
Sunflower
It is well-suited for a New Year's tattoo to have sunflowers, as they are beautiful and symbolic. As well as representing loyalty, they also represent good luck, good health, and good fortune. Sunflowers complement curves in the lower half of the body as well as other flowers, so they are popular as thigh tattoos as well.
Butterfly
A butterfly tattoo is a classic for women because it symbolizes new beginnings and transformation. Christian scriptures also attribute spiritual significance to winged insects. Depending on how much your life has changed, your perfect 2021 tattoo could be a butterfly. By placing it on your thigh, your artist will have plenty of room to create a detailed design with a lot of movement in the wings.
Female tattoos in a delicate, feminine style are another popular tattoo style. Small tattoos are a discrete choice for those who want meaningful tattoos but don't wish to show them off every day.
Typical designs include words, symbols, and Roman Numerals. Choose a color of your choice instead of having it in black ink to add another element of uniqueness.
Tiger Thigh Tattoo
Tiger tattoos are ideal for women with fiery personalities who love to take charge. They are strong, fierce, and passionate. Tattoos with such a bold theme complement a sexy placement on the thigh perfectly. Tigers should have a body that follows the curve of your hip and thigh. If you add more detailed inkings over time, your tiger tattoo can take on a unique twist.
How much do thigh tattoos cost?
It depends on many factors, including the design, the length, and the tattoo parlor you chose for your thigh tattoo. If you want something small and simple on your thighs, you may have to pay between $100 and $200. Getting a large thigh tattoo will cost you $400-$500 at most. It is possible, however, to have a tattoo up to $1000 if it is detailed too. In addition to hourly charges, some tattoo artists charge $150 for an hour.
Can you walk after a tattoo?
Walking is always a safe bet unless you're strutting around with a giant and fresh leg tattoo. Walking is a soft and gentle exercise, and it's still a great way to get your body pumping. Make sure you are avoiding direct sunlight on your tattoo.
How Painful Is A Thigh Tattoo?
There is no painless tattoo, but getting a tattoo on the thighs is considered a relatively small amount. Since the nerves in the inner thigh travel to the groin area, the inner area will be much more sensitive and painful. Everyone's pain threshold is different, but getting your tattoo on the side of the is one of the less painful locations.
How long do thigh tattoos take?
The size of hip tattoos makes them more challenging to complete as compared to other tattoos. An outline of a thigh tattoo takes almost three hours, and coloring will take even more time. It might take you two or three appointments to get your thigh tattoo ready; for that reason, you may need to make a few appointments.
You can hide tattoos when necessary or show them off when you like. An adorable, small tattoo on your upper leg can enhance its appearance, as can a large, elaborate piece of art.
Human Anatomy: The Thigh
The thigh, located between the hip and knee in human anatomy, belongs to the lower limb. Its singular bone, the femur, is both thick and robust, connecting to the hip via a ball and socket joint and to the knee through a modified hinge joint.
Societal & Cultural Views on Thighs
In Western cultures, attire revealing the thighs, like short shorts or miniskirts, is common. This includes beachwear and many athleisure trends. However, professional settings might demand covered thighs.
Contrastingly, many Islamic nations either disapprove of or outright ban exposed thighs, particularly for women.
Thigh-focused fashion elements, such as thigh-high boots and zettai ryoiki, are popular worldwide.
Thigh Tattoos: Are They Worth It?
Thigh tattoos offer various benefits. They can accentuate the thighs, making them appear attractive. The outer or front thigh is less sensitive, making tattooing there less painful. Given the ample space, intricate and expansive designs are feasible. Moreover, for those needing discretion, such tattoos are easily concealed, especially in workplaces that mandate pants.
You should research what kind of tattoo will look best and in what placement (plus how much pain you're willing to endure) before you schedule an appointment.