The Fourth of July is coming up fast. There's less than a week to go, people. Hopefully, you've figured out what barbecue you're attending and where you're going to watch the fireworks. Once you've got your plans sorted, you can focus on your outfit. What you wear to any holiday is always important, but it is key when it comes to the Fourth of July. You want red, white and blue, and lots of them. If you're looking for some patriotic pieces that are a bit more stylish than a plastic hat, we've got you covered. You'll like these ones so much; you will want to wear them for the rest of the year.
Here are 11 patriotic pieces to celebrate the Fourth of July:
1. Stars And Stripes Baseball Cap
Trade in your usual floppy hat for this patriotic cap. It will allow you to show off your patriotic side while providing you with a bit of protection from the sun. Just note that you still have to wear sunscreen with the hat.
2. American Tank by Project Social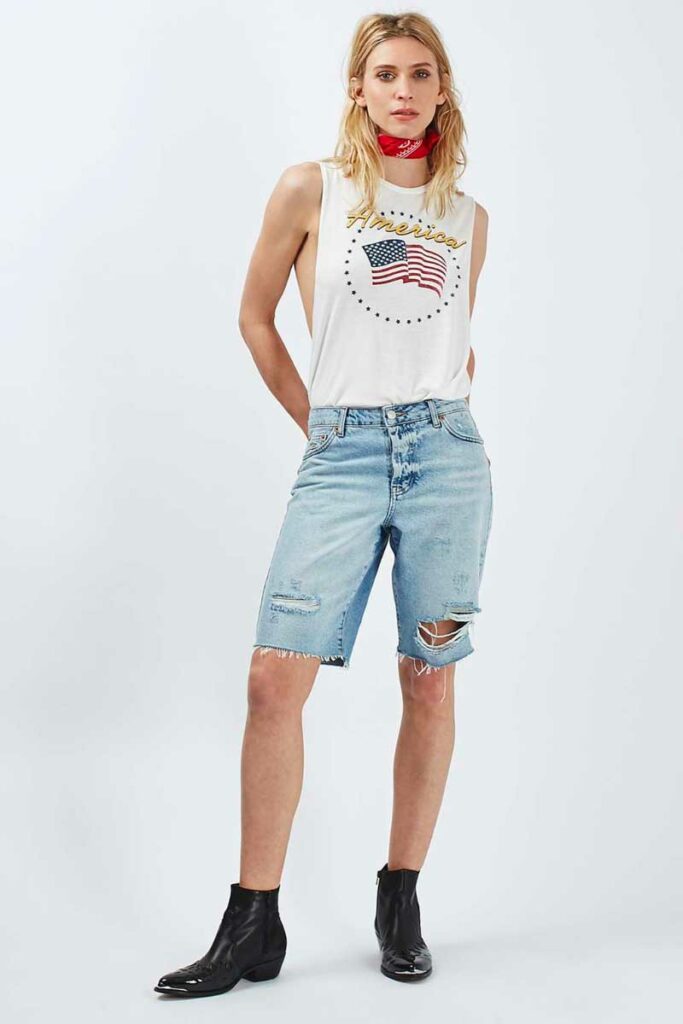 This tank will look good whether you are pairing it with your stars-and-stripes jean shorts or with your bikini. The dropped armholes and loose fit will keep you cool when you're out enjoying your barbecue.
3. Stars and Stripes Print Infinity Scarf
Do not forget about your accessories. We all know that there is no such thing as too much red, white and blue. Wear this scarf around your neck, wrap it in your updo, or knot it on your bag.
4. Future State USA Tee
This t-shirt has the right vintage vibe that we are obsessed with. Plus, it has the right amount of Americana. You can wear it to celebrate the Fourth of July and beyond.
5. The Bikini Lab American Flag Stars & Stripes One-Piece Swimsuit
The ideal Fourth of July is spent by the pool or at the beach, so you will need an appropriate swimsuit. This one is a perfect choice. It has an American flag design and a low scoop back for a sexy vibe.
6. Love Moschino Love in the USA T-Shirt
USA! USA! USA! Show your love for your country with this tee. Moschino has put their signature quirky spin on the traditional stars and stripes.
7. Hilfiger Collection Striped Espadrilles
These red, white, and blue espadrilles are the perfect finishing touch to any patriotic outfit.
8. Relaxed Plus-Size High-Neck Graphic Tank
This is a very cool interpretation of a flag print. Pair the tank top with blue and red shorts and your star print flip-flops.
9. Stone Fox Cora Bikini Top
It doesn't matter whether you style this bikini as a top or you wear it as a proper swimsuit, and it will be the perfect piece in your Fourth of July look. Add some star-shaped sunnies, and you're good to go to the beach.
10. Refuge Hi-Rise Cheeky Denim Shorts
No Fourth of July celebration is complete until you've put on a pair of shorts with a stars and stripes design. I mean, what else would you wear your Americana tee with?
11. Team USA Ceremony Striped Tee
Surely you should earn more points for this tee, given that it is from Ralph Lauren's Team USA collection? You may not be going to Rio, but you can look like you are.